Repair and Calibration Services
8594E
8594E spectrum analyzer 9kHz-2.9GHz
Our full repair facility can repair and calibrate your Keysight Agilent HP 8594E Spectrum Analyzer. Free Evaluations on the Keysight Agilent HP 8594E. Fast!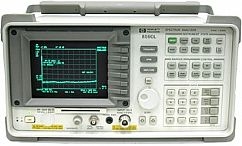 Description:
The Agilent 8594E is an easy-to-use RF spectrum analyzer that offers a wide range of performance, features, and optional capability to meet your measurement needs. Downloadable measurement personalities combine with optional plug-in performance to provide tailored solutions for your application.
Specifications:
Low phase noise of -105 dBc at 30 kHz offset and frequency-synthesized accuracy of 7.6 kHz at 1 GHz, which can be improved to 240 Hz with an optional precision frequency reference. Second- and third-order dynamic ranges are 77 and 90 dB, respectively. Calibrated amplitude range is + 30 to -130 dBm with Option 130, and calibrated onscreen display range is 70dB.