Repair and Calibration Services
8592L
8592L spectrum analyzer 9kHz-22GHz
Our full repair facility can repair and calibrate your Keysight Agilent HP 8592L Spectrum Analyzer. Free Evaluations on the Keysight Agilent HP 8592L. Fast!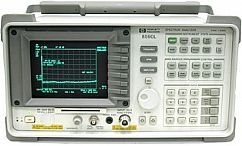 We are experts in the repair of HP 8592L spectrum analyzers. The Agilent 8592L is a low-cost, but full-featured, frequency accurate microwave spectrum analyzer designed to meet your general purpose measurement needs. The easy-to-use interface provides access to more than 200 built-in functions.
Specifications:
Frequency counter: Eliminate the need for a separate frequency counter with the built-in frequency counter with 2.1 kHz accuracy at 1 GHz (7.6 kHz from 0 to 50 C). Multiple resolution bandwidth filters: Optimize the tradeoffs of speed, sensitivity and the separation of closely spaced signals with your choice of 10 resolution bandwidth filters beginning at 1 kHz. -142 dB amplitude measurement range: Measures signals directly with -112 dBm to +30 dBm amplitude measurement range.
Options:
001 75 Ohms Input Impedance (8590L only) 003 Memory Card Reader 010 Tracking Generator (100 kHz to 1.8 GHz, 8590L only) 011 75 Ohms Tracking Generator (1 MHz to 1.8 GHz, 8590L only) 041 GPIB Interface and Parallel Printer Interface 043 RS-232 Interface and Parallel Printer Interface 026 26.5 GHz Frequency Extension, APC connector (8592L only) 027 26.5 GHz Frequency Extension, Type N Connector (8592L only) 040 Front Panel Protective Cover with Storage 042 Protective Soft Carrying Case/Back Pack 711 50/75 Ohms Matching Pad with 100V DC Block 908 Rack Mount without Handles 909 Rack Mount with Handles 910 Additional Users, Quick Reference, and Calibration Guides 915 Component Level Information and Service Guide 8ZE Refurbished Spectrum Analyzer (as available) UK6 Commercial Cal. Certificate W30 Two Additional Years Return-to-Agilent Service W32 Two Additional Years Return-to-Agilent Calibration W50 Four Additional Years Return-to-Agilent Service W52 Four Additional Years Return-to-Agilent Calibration 0Q8 8590 Customer Service Training