496P
Product model:
496P spectrum analyzer 1kHz-1.8GHz
Description:
he Tektronix 496P is a portable Spectrum Analyzers with a bandwidth to 7.1 GHz. The 496P is also GPIB Programmable.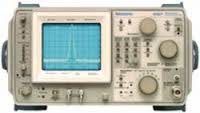 Services:
Our full capability facility can repair and calibrate your Tektronix Tek 496P Spectrum Analyzer. We specialize in servicing obsolete, unsupported test equipment.